From 2008 to 2014, I had the opportunity to share my cycling experiences with teachers and students across many parts of North America.  It shaped who I am today.
This project, coined the B.I.K.E.S project (Bicycle-Inspired Kinetics in Elementary Schools) was designed to help kids get moving, albeit through the bicycle or reflection exercises.
The project grew and developed over the years and helped me grow as a community sports leader.
To everyone who supported the B.I.K.E.S project, thank you.
To learn a bit more about the impact of the project, please continue reading…
***
Bicycle-Inspired Kinetics in Elementary Schools (BIKES) shares 3 very important lessons I learned during my athletic and academic pursuits:
Honor lessons learned through failure. They are tools to be cherished, not dismissed.
A dream goal is a collection of daily goals.
Creating recess is key to a life rich in creativity, collaboration, and health, regardless of age.
How did BIKES start?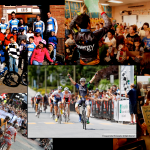 After supporting Kay Barga's school bicycle rodeos at Edison Elementary of Walla Walla, Washington from 2008 to 2010, I was inspired to develop a youth speaking tour and began sending monthly updates to her classes in 2011-2012. I visited Kay's class that year in December and shared insights from my first year as a North American pro rider.  The project continued with monthly videos, photos, and letters to share behind-the-scenes videos and fun insights from the 2012 season.  Each student was also gifted with their own name tag sticker for their bicycles or helmets through the kind support of Boise's Trademark Sign Company and in exchange, the class created a fantastic video explaining how they would stay safe on their bicycles! This all happened the same week as achieving my dream goal of winning the Canadian Criteriums Championships in Lac Magantic, Quebec; A good week to say the least!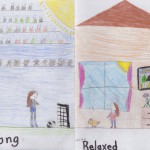 For the 2013 season, a large generous donation from the cycling community created opportunities to expand project quality and outreach. Thank you.  As a result, I had the opportunity to speak with over 1500 students across British Columbia, Washington, Idaho, and Georgia and share insights from my experience. That spring the video series also developed to include insights from young working professionals who were tackling their passion interests in such areas as tropical biology, sports photography, international bicycle touring, and more. It was a lot of fun to meet and speak with these inspiring individuals and share their stories with the students. In response, students participated in a 3-part art project to answer 3 questions: tell us 1 interesting fact about your favorite tree, share your favorite exercise and non-exercise activity and 1 word to describe how they make you feel, and finally share a dream goal with a few small goals along the way. Check out the gallery!
In 2014, the B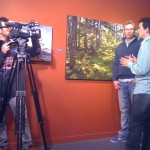 IKES project's video series expanded again to partner with a local B.C. professional videographer, Michael Bruno, and create a series of 5 videos that highlight inspiring professionals who are pursuing exciting projects in human physiology or earth sciences.  Funded through private donations and a wonderful fundraising event held at Whistler Creekbread Restaurant in December, the 2014 campaign was a really fun experience.
Thank you, everyone! Dave Thornhill, Rotary Club Whistler, Cycling Canada, Bearfoot Bistro, La Bicicletta Pro Shop, Whistler Blackcomb Downhill Park, Burnaby Velodrome Club, Astrid's Fine Foods, Cinnamon Bear Bar & Grill, Evergreen Creations, Fanatyk Co. Bike Shop, Green Spokes, Kinesiology with Majo, Local Ride Bicycle Shop, Passive House XC Connection, Prima Foods, Skiis & Biikes, TaG Cycling Whistler, Whistler Core, Whistler Village Sports.
Since retiring from road racing in 2014, my BIKES project has been placed on hiatus as I assist Cycling BC in the creation and implementation of their youth and school programs, iRide. The iRide program has provided an opportunity that I didn't have with the BIKES project, to share inspiring experiences with students through cycling with free rental bicycles. However, it is my experiences from the BIKES project have been instrumental in the success of my posting at Cycling BC and I am therefore forever grateful to all those who helped me during my competitive road racing career and the implementation of the BIKES project from 2011-2014.
Media Archive
Some of these videos are funny, some of them are "so 2k", but they also demonstrate how "sometimes, you gotta fake it till you make it."